Digital invitations are the new trend that has been positioning itself over the years. Currently, despite the pandemic situation, this type of modality has become more common than we imagine.
There are so many incredible ideas that can arise when creating the design of digital invitations for graduations, that will leave you dazzled, due to its added value accompanied by music and other special effects, which undoubtedly give an invaluable contribution.
Since your graduation is not just any old thing, we have prepared this post for you, with the intention of surprising your guests, through the different ideas you can use to create a phenomenal invitation and show your interest in making them part of your great achievement. Let's take a look!
Ideas for digital invitations for graduations
This way of notifying your guests about your sharing has become a practical and more economical way than printed invitations. In this digitalized era, technology has gained a lot of ground and paper and printed invitations are becoming less common.
Without further ado, let's get to know all the ideas you can put into practice to create the dream invitations for your graduation party.
1. With photo of the graduate
Who is the protagonist of the event? You are. That's why an excellent technique is to design the graduation invitations with one of your favorite photos. That particular and unique aura is unprecedented. This way, you will be able to perceive in the first instance, who is the celebrant and the main actor of the merit achieved.
2. Gold and black colors
These two tones are undoubtedly one of my favorites, because they give the impetus of elegance to your card. Besides, they combine very well with the accessories allusive to your graduation, such as the cap and gown, because, in most cases, they are black. Have you heard the phrase "black goes with everything"?

3. In 3D
If you want to give shape and three-dimensional dimension to your digital invitations, this graphic representation can cause an unparalleled effect on your guests.
4. Image of Toga y Birrete
It is very likely that when you want to look for ideas to design your invitations, the first thing that comes to mind and you get are images with cap and gown. Let me tell you that you are not far from reality, since in most cases this is the modality that is used as a tribute to the moment of graduation. The personal touch you put on it, is what will make the difference.
5. In the form of a Postcard
The virtual postcards are becoming more and more common, thanks to technology and the series of advances in the programs that are available on different websites. Making your invitation in the form of a postcard can be ingenious, since they can be designed with effects in movements, gif or in static form. You decide the model!
6. Virtual representation
One of the most important senses in human beings is the visual sense. Although all of them constitute a primordial level for a person to fully develop, it is through sight that we can be enraptured by colors, landscapes and other natural phenomena.
The virtual representation is capable of attracting our attention almost 100%, that's why the details should not be neglected, so that your invitations look as you always dreamed.
7. Balloon Images
Balloon decorations for graduations are in the forefront of fashion. Certainly, it is becoming more and more usual to get in any type of event this style. So, why not use balloon images on your invitations?
There are many beautiful digital graduation invitation designs with balloon image content. You can merge this with some of the other elements we have mentioned, the limits are up to you!
8. Gold and vinotint color
If we analyze a little about the psychology of color, the golden tone has a meaning that harbors aspects that go beyond the ostentatious and good aesthetic taste. Vinotint fused with gold, generate a spectacular combination, giving way to an invitation with sophisticated vitality. Try these colors and you will love the combination!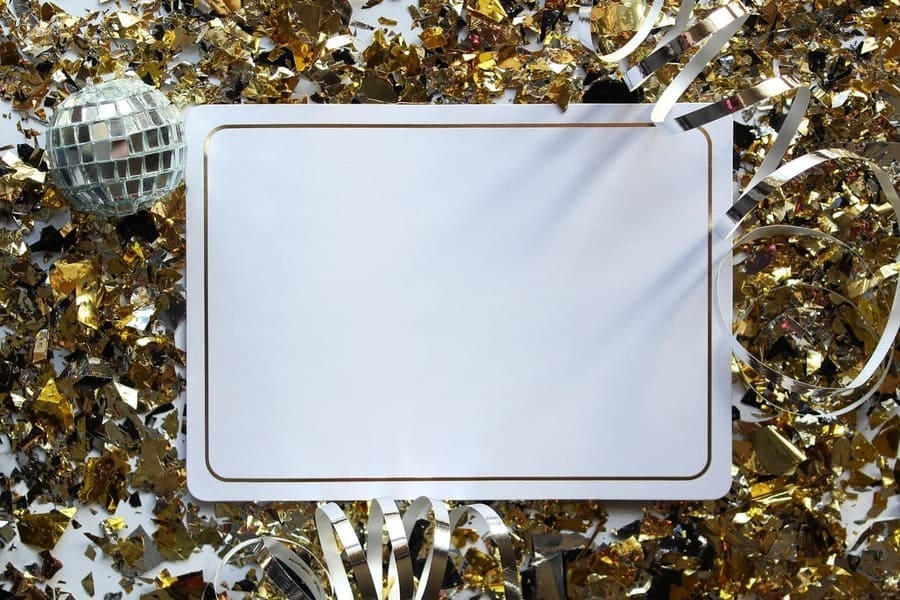 9. Champagne bottle image
An icon that undoubtedly reflects celebration is the champagne bottle. By placing it as an image and part of the design, your guests will understand that there is an emblematic reason to celebrate. It's time for festivity!
10. Image with diploma
A symbol of achievement! The diploma means that you have successfully completed a stage of your studies. One way to let people know how proud you are of having fulfilled the requirements of your career or your bachelor's degree is to include an image with a diploma in the design of digital invitations for graduations.
Your family and friends will be happy to be part of your great outreach. That is why it is important to take care of every detail you include in your invitations. Another aspect that you cannot ignore, under any circumstances, are the photographs.
I have the perfect partner for you, who can guarantee to capture the best moments and poses in your event. The agency IAZ PHOTO STUDIO, has the best professionals to offer you the service of photography for graduations in Arizona, taking care of every aspect and detail in the images. 
If you are looking for specialized advice and excellent service, contact us, it will be a real pleasure!
Conclusions
Digital invitations can be a practical and eco-friendly way to let your guests know that you intend to share with them the successful stage you have reached in your life with your graduation.
The design of digital invitations for graduations, can be great, if you choose the color that goes more in tune with your style, incorporating your photo, images with balloons, with the cap and gown or any other according to your preference.