The bride and groom's most special
day captured in Wedding Photos
With the best professional wedding photography service in Mesa AZ
In every event we work, we strive to make sure that our clients are satisfied and get a complete service. We offer the best prices and wedding photography packages, which you can choose according to your budget.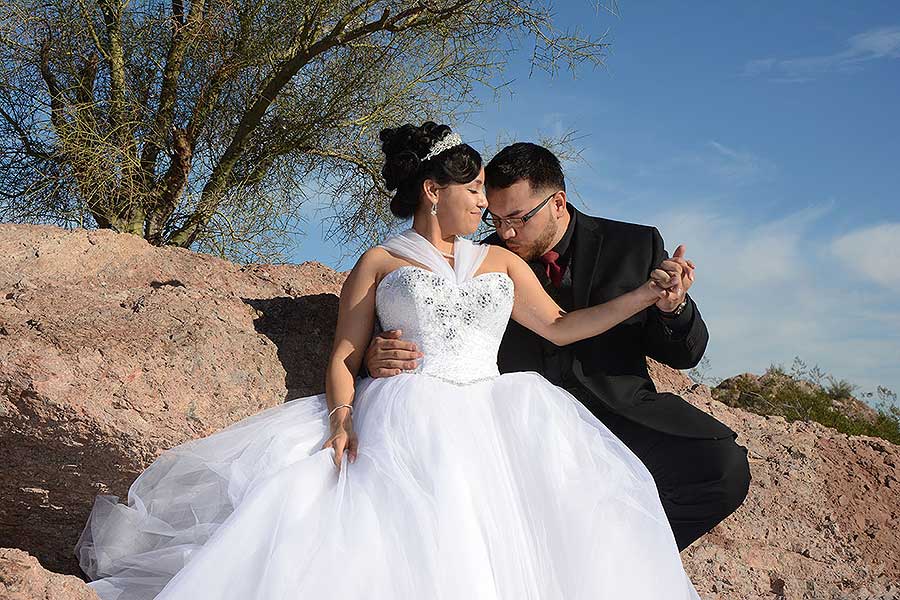 The essence of a wedding is the bride and groom. Therefore, we offer a couple photo session with the best professional photographer for wedding events in Mesa AZ.  
With a variety of styles, among them, fun, pre-wedding, post-wedding, in beautiful places, an endless number of diverse forms that we implement in the wedding photos, according to the personality and desire of our clients.  
Having a wedding photo album for a lifetime is the most important thing when there is a relationship of years. It helps to remember the unique and beautiful moments of a marriage.  
Our wedding photographer for wedding celebrations in Mesa AZ applies the best techniques so that the wedding photos last over time and the couple can enjoy it as if it were their wedding day.
Photo and video for weddings
Every wedding photo we take is taken with passion. In addition, we enjoy sharing with the bride and groom the most beautiful details of their day. Our professional wedding photography service in Mesa AZ is transparent. 
We also make videos that capture every happy moment of the couple, their guests and their family. Each wedding photo and video is taken with specialized equipment and professionals in the photography industry. 
Wedding photography package
As a wedding photography agency in Mesa AZ, we are dedicated to providing different types of wedding photography packages for our clients.  
Wedding photos are undoubtedly the most memorable memories of such an important and unique event. Where love is reflected in every expression of the bride and groom. You can get more information in our prices and packages section. 
The wedding photos we present show not only the smiles of the couple, but also the beautiful love they have for each other.  
All their feelings filled us with joy. As a result, we want them to feel it too with our hard work and that is our motivation. 
Seeing each one of our clients happy, encourages us to give our best every day and provide the best service to those who trust us. We would not stop doing this work, because the emotion we feel is indescribable. 
We will give you the best experience of your day!
Don't leave it in the hands of just anyone! Call us!